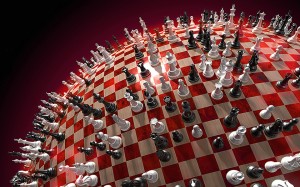 This is a question that, one day, the Governance Laboratory had to think about and to answer. The Collins dictionary, always insightful in its definitions, defines governance as "the action of governing". Who can say better? Us, or at least we will try to better understand what does this phenomenon imply to define it in a better way.
First of all, there is a first aspect that you noticed for sure, it is the massive use of the term in all fields. Governance is a watchword, a buzzword to which many have given to the temptation. Having sinned, we will not cast the first stone. But how can we explain this woldwide success?
We believe that this success is emblematic of the need for a new mode of management and administration. In the case this need to change the management style os real (as it has been demonstrated by the Arab Spring or many civil demonstrations recently), it not clear that this organizational change has already emerged to become a reality.
For a change in management policies, there must be 1) a transformation within the objectives of policies (the cognitive framework) 2) a modification of the tools used for the scene to take place (actors and instruments) and 3) a mutation of the institutional framework (the context). It is clear that tools changed (for example, new public management imposed the use of quantitative performance analysis), that the legal and normative framework evolved (such as the instauration of good governance norms), but the cognitive benchmark has not been questioned at all.  At the contrary, the neoliberal economic paradigm, individualism and the weberian conception of the state have been reinforced by the imposition of the notion of "economic crisis."Thus, considering that the economic, social institutional and cognitive structures are the reflect of power relationships, that is to say a stabilized relationship used by a social group to exert its interest and its vision of the world upon other groups, then the spread of the word Governance and all its consequences demonstrates the current power relationship.
Some people consider that, at the contrary, it is the increasing power of civil society which imposed a new mode way of managing states and companies (corporate governance). However, this term emerged mainly in the 90's and has been diffused mainly by the world bank and its partners. It rapidly became a necesary condition for development policies. It draws the framework of state policies and economic actors, within so different fields, from security, to sustainable development, human rights, poverty,corruption, etc. It is within the objectives defined by institutional actors that civil society is associated and acquired a function of legitimization of the dominant political vision (based on the market economy).
Nevertheless, we didn't answer yet to the question: what is governance? It is a strategic orientation, a vision of the decisonal process, more transparent, more accountable, more participative and responsive. This new doctrine of management cannot be challenged (who wants a governance less transparent?) . However, there is no consensus on the way to execute social change policies, economic and political changes. It is the actors themselves, within a local situation (for example a company or a public institution) which will determine governance principles and its implications, in line with their demands. It is within this local context that power relationships are redefined and influence the normative framework. However, this negotiation does not take place in a vacuum, it creates a situation of legal pluralism where the cognitive framework continues to have an impact.
It is within this context of negotiation, being aware of stakeholder's game, issues at stake and norms framing social interactions that the Governance Laboratory proposes its expertise. Our experts in anthropology, political science and economic science stand ready to provide you advice and services to manage safely organisational changes.